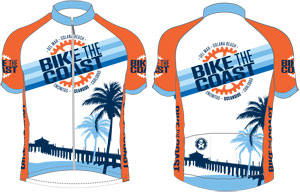 Congratulations to Spencer Pablo for winning last week's jersey (ride posts the week prior to 7/16. Thanks for a fun ride report and photo with the characters at Comic Con!
Thanks to all the riders who posted on the website and on our Facebook page. Â Keep riding and keep posting for the weekly giveaways.
Spencer Pablo won a 2012 jersey for Bike the Coast - Taste the Coast for posts the week prior to 7/16/12 with his post on Facebook:
Here is Spencer's post:
Ride from my home in Paradise Hills towards the coast, then back up to Coronado. Totally forgot about Comic Con but when we hit downtown, I couldn't resist taking a photo with other lycra'd folks:
http://www.flickr.com/photos/spthealien/7587699184/in/photostream
Team Spandex! (Look out for us this fall on Showtime.)
Also, hit up the Anthony's Fishette by the Star of India for some fish tacos. Mmmmm. Too much for the ride back, though. We certainly paid for it on the hills.
IMG_20120715_125207
www.flickr.com
-Spencer Pablo
Get your rides posted by noon 7/24 for the next contest where we will be giving away a 2012 Bike the Coast jersey! Â