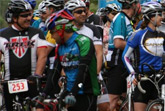 Bike the Coast - Taste the Coast passed the 500 mark for registered riders this week, well ahead of schedule.
"I'm very pleased with the support that we've gotten from the City of Oceanside, our sponsors and the community for this inaugural event.  With this sort of response from cyclists we hope to build a successful annual event to showcase the leadership of Oceanside as a cycling community.  We're very excited about the response so far." said Jim Curl, the event organizer for Bike the Coast - Taste the Coast.
Bike the Coast – Taste the Coast, produced by Event Media, Inc., has partnerships with the Oceanside Bicycle Committee, Main Street Oceanside and the Oceanside Chamber of Commerce. These groups, along with the Oceanside Visitors Bureau, are bringing together the cycling and business communities in Oceanside to promote bicycling and offer a fun festival at the Oceanside Pier with food, drink, music and fun.
The event, beginning and ending at the Oceanside Pier, offers cyclists of all abilities the choice of four unique courses along the San Luis Rey Bike Trail and the North County beaches. In addition, Bike the Coast – Taste the Coast will feature a comprehensive expo, comprising exhibitor booths, live music area, beer garden, finish line photographs, bike valet and Taste the Coast food booths. Main Street Oceanside (MSO), producers of the very popular weekly Farmers and Sunset Markets, will provide food and music at Taste the Coast.
About Bike the Coast – Taste the Coast
Bike the Coast – Taste the Coast is a choice of 7, 15, 25 or 50-mile bicycle ride starting and finishing with food, fun and music at the Oceanside Pier on Saturday, Nov. 6.  The cycling courses include the San Luis Rey Bike Trail and San Diego's North County beaches of Oceanside, Carlsbad, Encinitas, Solana Beach and Del Mar. Proceeds from the ride support the San Diego County Bicycle Coalition — www.sdcbc.org — a 501(c)3 non-profit organization dedicated to making bicycling better in greater San Diego and the Oceanside Parks and Recreation Foundation (OPARC). For more information on Bike the Coast – Taste the Coast, including registration visit: www.bike-the-coast.com or call us at 760-632-6843.