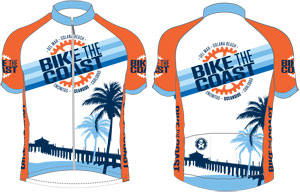 Congratulations to Kurt Hagel for winning last week's jersey (ride posts the week prior to 7/24. Thanks for being a great bike ambassador and doing what we aspire to do: introduce more riders to great rides in Southern California!
Thanks to all the riders who posted on the website and on our Facebook page.  Keep riding and keep posting for the weekly giveaways.
Kurt Hagel won a 2012 jersey for Bike the Coast - Taste the Coast for posts the week prior to 7/24/12 with his post on the website:
Here is Kurt's post:
The highlight of my weekend ride was introducing a "new rider" to the trail along Doheny Beach/Park on Saturday. Having purchased his first bike in many years, it was very rewarding to host him on this scenic (early morning) ride!
-Kurt Hagel
Get your rides posted by noon 7/24 for the next contest where we will be giving away a 2012 Bike the Coast jersey!