This promotion ended 9/30.  Stay tuned and we will have the winner list out Monday 10/3.  Thanks to all who participated, we have some great posts to choose from!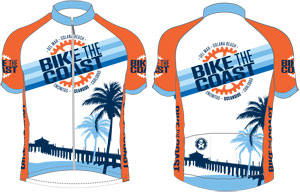 We are putting in our manufacturer's order on 9/30 for Bike the Coast jerseys, so we thought it would be a great time to spread the news about our 2011 designs by Brand Betty.  If you're daring, click the share icons on this article and ask your friends "Would I look better in a Bike the Coast jersey, or a leopard jersey? "  Click the link to check out the leopard….no, not Leopard Trek.  Share the answers, or make one up for the judges:)    Post a comment below with your answer to get in on this week's contest.
Win one of 2 sets of a Bike the Coast jersey and Bike the Coast t-shirt.
The best comments between Monday and 5:00 pm  Friday 9/30  are eligible.  The judging team from Bike the Coast will select the winning comments over the weekend of October 1/2.
More details on the giveaway:
The 9/30 promotions will include 2 pairs of a Bike the Coast jersey and Bike the Coast t-shirt.  No purchase necessary.  Entries limited to one per person. Previous winners not eligible.  One prize per person.   Items will be awarded based on best comments on this post between Monday and Friday September 30 at 5 pm, with winners selected by Bike the Coast judges.