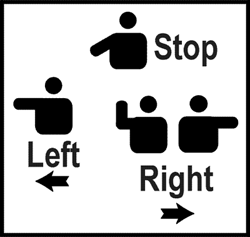 Congratulations to Nayely Limon for winning the jersey last Friday with her upcoming plans to take the "Traffic 101″ class in person at CSU Long Beach. Thanks for sharing, Nayely!   Please join Nayely in support of safe riding for all of us by taking the free online class for cyclists at http://bikeed.org.
Nayely won a 2012 San Diego Century bike jersey in the 5/4 edition with the judges selecting his entry for the question,  "Do you know about the free online "Traffic Skills 101″ at http://bikeed.org and will you pass it on to other cyclists?" 
Here is Nayely's post:
In mid May, I will be taking this Traffic 101 course with the On-Road Training session at CSULong Beach. A pre-requisite for a scholarship candidate program (www.Womenonbikessocal.org) to become an LCI (League Certified Instructor).
-Nayely
See all your fellow rider posts here>>
    Stay tuned for the next contest ending 5/11 where we will be giving away another jersey!