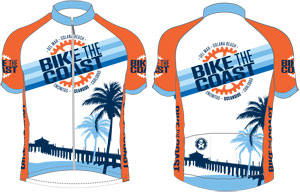 Congratulations to C. Harris for winning the jersey for posts the week prior to 7/9!  Thanks for a great 4th of July ride report complete with food and fireworks!
Thanks to all the riders who posted on the website and on our Facebook page.  Keep riding and keep posting for the weekly giveaways.
C Harris won a 2012 jersey for Bike the Coast - Taste the Coast for posts the week prior to 7/9/12 by sharing his 4th of July ride on the Bike the Coast - Taste the Coast website.
Here is C Harris' post:
Check out this photo of my July 4th Honey Springs Ride:
http://s1122.photobucket.com/albums/l528/sertalpha/
On the 4th of July I (and my cycling "enthusiast" riding buddy) enjoyed the "Honey Springs Road" ride. We followed the suggested route you can check out at: http://www.themappything.com/club/123-honeysprings.html
What an incredible ride. The approximately 45 mile adventure took me through different stages of emotions from denial, anger, acceptance, and an adrenaline fueled downhill. My legs were talking back to me at the finish but I had a huge smile of satisfaction on my face when I took a bite of my celebratory Surfin' California burrito from Lucha Libre taco shop in Mission Hills. http://www.tacosmackdown.com/index.htm
Topping the day off with watching the "Big Boom" fireworks show with my family and getting a good nights rest made this an AWESOME day.
-C Harris
Get your rides posted for the next contest ending 7/16 where we will be giving away a 2012 Bike the Coast jersey!